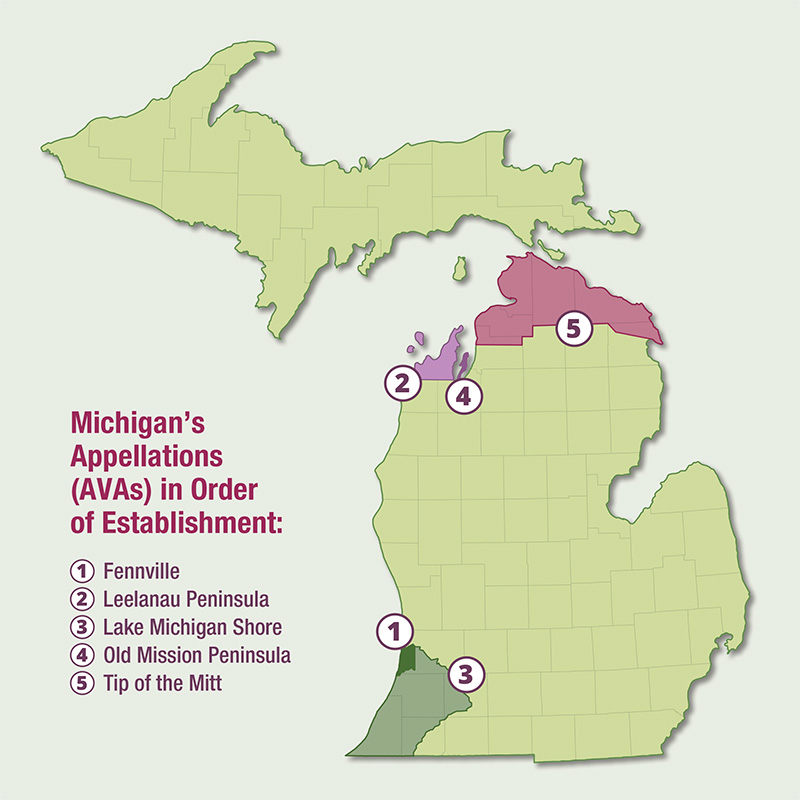 Michigan has five
American Viticultural Areas
, which are federally designated areas where the wines produced exhibit similar characteristics that are distinct from other regions. Qualities like soil type, climate and the like can play a role in the wines that result.
In order for an AVA to appear on a wine's label, at least 85 percent of the grapes in the wine must be from that region. The threshold is lowered to 75 percent for including a county or state on the label. These labels tell consumers that the wines they're buying are crafted from Michigan-grown grapes. Here's a quick look at Michigan's five AVAs.
Fennville in southwestern Michigan was the state's first AVA — and only the third AVA in the nation — when it was established in 1981. It's also the smallest, encompassed within the larger Lake Michigan Shore AVA founded two years later.
The Lake Michigan Shore AVA spans Berrien and Van Buren counties and parts of Allegan, Kalamazoo and Cass counties. Like the Fennville AVA, it benefits from Lake Michigan's lake effect, which moderates winter and summer temperature extremes and delays the budding of the vines beyond late spring frosts, according to the Alcohol and Tobacco Tax and Trade Bureau. The area's rolling glacial hills move cool air, lowering the risk of frost pockets that can damage vineyards. TTB documents also indicate that the region's topography is more conducive to grape growing than the flat plains of the adjacent area.
The Leelanau Peninsula in northwestern Lower Michigan became the state's second AVA when it was approved in 1982. Like its southwestern Michigan counterparts, it benefits from lake effect, with Lake Michigan, Grand Traverse Bay and Lake Leelanau moderating temperatures. Vineyard soils tend to have sandy loams and are well-drained, which means that the vines can be deeply rooted.
Across Grand Traverse Bay from the Leelanau Peninsula, Old Mission Peninsula became an AVA in 1987. Here, lake effect plays a major role, with Lake Michigan's surrounding bays creating a moderating influence. Sandy soils that are low in organic content and well drained mean irrigation is often a necessity, but they also help growers avoid some of the most severe winter damage. Spring tends to be late and fall lingers, while the summers aren't as hot and humid as they are in other areas of Michigan.
The Tip of the Mitt AVA is Michigan's newest, approved in July 2016. Encompassing Charlevoix, Emmet, Cheboygan, Presque Isle and parts of Antrim and Alpena counties, it has a longer frost-free growing season, more growing degree days and a generally less extreme climate than the adjacent region to the south. Sandier, light soils heat up faster in the spring, allowing for higher-quality grapes and the growing of varieties that would not ripen during a shorter season or amid more extreme winter lows.