MICHIGAN WINE COUNTRY WEDDINGS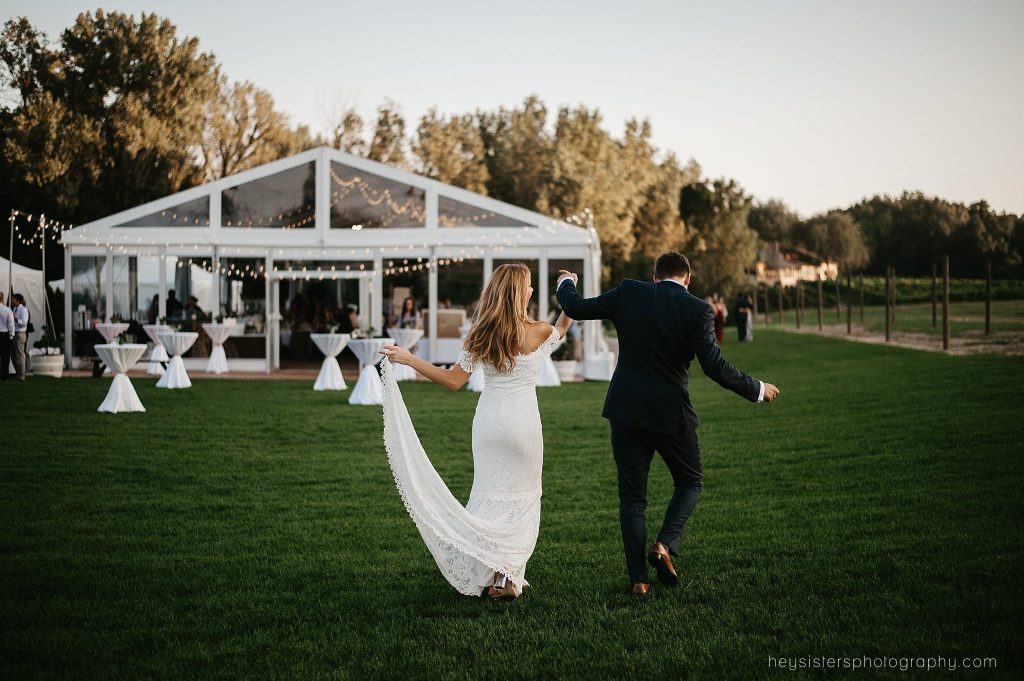 Wineries across Michigan offer venues and settings for weddings of all sizes. From rustic barns and tents in vineyards to beautiful indoor gathering spaces, they help couples create memorable occasions. Here's a sampling of some of the options available around the state.
3 North Vines Vineyard and Winery
5940 Peck Road, Croswell, MI 48422
810-956-2706 | 3northvines.com 
3 North Vines is located between Croswell and Lexington in southeastern Michigan, only a few miles from the shores of Lake Huron. The winery offers two main wedding packages: a complete package including both ceremony and reception with winery-provided tents, and a ceremony-only package that includes an optional wine hour add-on. A wedding photography option is also available.
12 Corners Vineyards
1201 N. Benton Center Road, Benton Harbor, MI 49022
269-927-1512 | weddingwinery.com 
12 Corners Vineyards is located in Benton Harbor, less than 90 minutes from downtown Chicago, Grand Rapids and South Bend. It provides a tented wedding experience complete with tables, chairs, set-up, clean-up and a large staff. Both the ceremony and reception can be hosted on-site with access to wedding planning services, catering, a bar, decoration services and more amenities. An online form can be filled out  to start the planning process.
45 North Vineyard and Winery
8580 E. Horn Road, Lake Leelanau, MI 49653
231-271-1188 | fortyfivenorth.com
45 North Vineyard and Winery is located in the heart of Leelanau Peninsula wine country. The barn can accommodate gatherings of 25 to 80 guests. The outdoor deck and patio also provide event space. Event staff will aid in the planning process. Tables and folding chairs are provided. Food must be catered by an approved caterer, and only 45 North Vineyard wines and ciders can be served. Staff members help with set-up, clean-up and bar-tending.
1918 Cellars at Castle Farms
5052 M-66 North, Charlevoix, MI 49720
231-237-0884 ext. 221 | castlefarms.com
1918 Cellars is located in the Queen's Tavern at the heart of Castle Farms, which houses several different wedding venues. The 1918 Cellars landscape incorporates gardens, stone fountains, towers and space for wedding receptions and rehearsal dinners. Weddings are hosted outdoors from May to October and indoors between November and April. Reception rooms have air conditioning and heat, and venue coordinators will work directly with couples to plan the event. Provided services include set-up and clean-up, sound system and some furniture and decor. The venue can direct interested parties to outside services such as bartending, catering, photography and florists.
Aurora Cellars
7788 E. Horn Road, Lake Leelanau, MI 49653
231-994-3188 | auroracellars.com
Aurora Cellars offers two different styles of wedding ceremonies, each housed in a different location. The Aurora Cellars Estate can host events with up to 300 guests on a property of two acres with a Victorian farmhouse, walnut trees, a willow tree and a pond. The vineyard itself lies directly next to the Estate land. The Aurora Cellars Terrace can host events with up to 80 guests and takes place in a tasting room with a connected patio. The Terrace wedding is ideal for intimate ceremonies. Both wedding styles include heated tents, an Aurora Cellars representative to aid in the process of choosing wines and other related amenities. For further information, interested parties can consult the frequently asked questions on the Aurora Cellars site, and contact them directly to take the next step in the planning process.
Black Star Farms
10844 E. Revold Road, Suttons Bay, MI 49682
231-944-1258 | blackstarfarms.com 
Black Star Farms is located on the Leelanau Peninsula and has a satellite tasting room on the Old Mission Peninsula. With 160 acres of vineyard, hiking trails, equestrian facilities, and venue spaces, there is ample room for wedding-related events both indoors and outdoors. The winery provides services such as guidance, set-up and cleanup, furniture, on-site catering and connection to outside vendors such as florists, photographers and music. Black Star Farms wine is available for purchase. For more specific information, interested parties can fill out an inquiry form via the winery's web page.
Brengman Brothers Winery
9720 S. Center Highway, Traverse City, MI 49684
231-421-5611 | brengmanbrothers.com
Brengman Brothers at Crain Hill Vineyards is located within 5 miles of Traverse City. The winery is capable of hosting both large and small events through a variety of indoor and outdoor seating arrangements. Amenities include Brengman Brothers wines, ability to choose a caterer, bartender, on-site manager, indoor restrooms, nearby parking and tent, table, chairs and lighting with the outdoor rental.
Chateau Aeronautique Winery/Blue Skies Brewery
1849 Rives Eaton Road, Jackson, MI 49201
517-569-2132
12000 Pentecost Highway, Onsted, MI 49265
517-446-4052 | chateauaeronautiquewinery.com
With locations in Jackson and the Irish Hills, Chateau Aeronautique offers two distinct wedding experiences. The Jackson wedding celebration takes place in the tasting room, home to seven semi-sweet wines, seven dry wines and three dessert wines, and overlooking the grass runway. This boutique wedding can host up to 50 guests. Catering options are available, and parties can bring in the dessert of their choice. Ten taps of Blue Skies Brewery beers and cider are available as well. The Irish Hills wedding takes place in an aeronautical-themed, 8,000-square-foot building with a large outdoor seating area that can accommodate up to 200 guests. The room is surrounded by wine barrels and steel tanks used in production. The same catering and dessert options are offered here, and there is a stage available for entertainment.
Chateau Chantal
15900 Rue de Vin, Traverse City, MI 49686
231-223-4110 | chateauchantal.com
An Old Mission Peninsula winery and inn, Chateau Chantal hosts weddings with up to 100 guests. Events often take place on the west lawn, which overlooks West Grand Traverse Bay, or in the terraced garden overlooking East Grand Traverse Bay. There is an indoor, 2,000-square-foot dining room where parties can enjoy a meal provided by the establishment and Chateau Chantal wines. The attached Chateau Chantal inn provides overnight accommodations for the wedding party and guests. The space is also capable of hosting related events such as bridal showers or rehearsal dinners. For more information, contact the winery directly or fill out a guest inquiry form to start the planning            process.
Cherry Creek Winery
11500 Silver Lake Highway, Brooklyn, MI 49230
517-592-4663 | cherrycreekwine.com
Located in Brooklyn, Cherry Creek Winery offers a variety of options for weddings, rehearsal dinners or other related events. Celebrations can take place in the schoolhouse, under the pergola or in the vineyard itself. For more information, interested parties can contact the winery directly.
Ciccone Vineyard and Winery
10343 E. Hilltop Road, Suttons Bay, MI 49682
231-271-5553 | cicconevineyard.com
Located overlooking West Grand Traverse Bay, Ciccone Vineyard and Winery can accommodate weddings ranging from elopements and intimate ceremonies to events with up to 250 guests. An event coordinator will aid in the planning process. Views include the restored barn and rolling vineyard hills. Monday through Thursday weddings can be planned at special weekday rates.
Country Mill Winery
4648 Otto Road, Charlotte, MI 48813
​517-543-1019 | orchardreception.com
Located in Charlotte, Country Mill offers a variety of outdoor ceremony sites and indoor reception options for weddings ranging from 200 to 400 guests. The venue is flexible and can provide information for ministers, caterers, bartenders, local hotels, photographers and other vendors. Kitchen space and tables are provided. An online form can be filled out for further information.
Crooked Vine Vineyard and Winery
8370 Lakeview Road, Alanson, MI 49706
231-881-6582 | crookedvinewine.com
Located in the Petoskey Wine Region, Crooked Vine Vineyard and Winery encompasses 20 acres and offers wedding services for up to 125 guests. The tasting room and vineyard are available to the party after closing. Several different indoor and outdoor options are offered for the ceremony, reception and after-party gatherings. The venue can also help refer couples to caterers, florists, planners and related services. Chair and tent rental are to be arranged by the wedding party. For specific pricing information based on group size, contact the winery directly.
Fenton Winery and Brewery
1370 N. Long Lake Road, Fenton, MI 48430
810-373-4194 | fentonbrewery.com
Fenton Winery and Brewery has both indoor and outdoor venue options available. They can accommodate up to 280 guests. Provided amenities include tables, chairs, linens, set-up, catering and a craft beer and wine bar. There are private dressing suites for the wedding party. An event planner will help coordinate the entire day. Interested parties can inquire for further details.
Mackinaw Trail Winery
3423 US Highway 131, Petoskey, MI 49770
231-487-1910 | mackinawtrailwinery.com
Located in northern Michigan, Mackinaw Trail Winery is a 30-acre property that hosts weddings and other related events. The wedding package includes amenities such as a pavilion with room for the bridal party to get ready, restrooms, space for caterers, access to alcohol, and a view of the vineyard. Contact the winery directly to schedule a visit or clarify any information.
Northern Sun Winery
983 10th Road, Bark River, MI 49807
906-399-9212 | northernsunwinery.com
Anthony Vineyards offers spring, summer and fall weddings with views such as rolling hills, wildflower fields, grapevine acres or a vintage barn. Northern Sun wine is available for the event. Couples can work with event coordinators to organize seating, decorations, music and food. The nearby Island Resort and Casino is ideal for lodging for the wedding party and guests.
Petoskey Farms Vineyard and Winery
3720 Atkins Road, Petoskey, MI 49770
231-290-9463 | petoskeyfarms.com
Located three miles east of downtown Petoskey, Petoskey Farms is a 22-acre property with a view of the rolling hills of Joy Valley. The winery is available to host private parties, wedding rehearsal dinners, anniversary parties and other events, accommodating up to 100 guests. Both the indoor tasting room and outdoor covered patio overlooking the vineyard are open to visitors depending upon preference. For more information, contact the winery directly.
Pleasant Valley Farm and Vineyard
522 N. 69th Ave., Hart, MI 49420
616-288-4229 | pleasantvalleyfarmandvineyard.com
Pleasant Valley Vineyard offers a wide variety of settings for weddings, from their vineyard to the Crystal Lake and barn. The event barn can host parties of up to 150 guests, and the outdoor areas can accommodate even larger groups. Pleasant Valley offers connections and options for renting decor, games and other amenities. An on-site house can serve as a bridal suite or accommodations for the wedding party. An online form can be filled out in order to request more details.
Pond Hill Farm
5699 S. Lake Shore Dr., Harbor Springs, MI 49740
231-526-3276 | pondhill.com
Pond Hill Farms offers events that can accommodate up to 60 guests from the months of November to May, and both below and above 75 guests during the peak season of June to September. Groups of under 75 guests will be catered by Pond Hill Farms, and larger groups can receive outside catering. Several ceremony and reception areas are available, including a vineyard hill overlook and the tasting room. Complete an online inquiry form for more information.
Rove Estate
7007 E. Traverse Highway (M-72), Traverse City, MI 49684
231-421-7001 | roveestate.com
Located only six miles from downtown Traverse City, Rove Estate sits at the highest point in Leelanau County and has a view of the Sleeping Bear Dunes National Lakeshore. Ceremonies are intimate and can accommodate between 80 and 100 guests. The entire property — 65 acres of farmstead, vineyards and rolling hills — is available for photographs. Parties are able to use the estate's tent, chairs, tables, barn wood bar, tent bistro lighting and French window tent walls. Interested parties can email directly or fill out an online inquiry form.
Shady Lane Cellars
9580 E. Shady Lane, Suttons Bay, MI 49682
231-947-8865 | shadylanecellars.com
Shady Lane Cellars hosts events both in the tasting room and on the grounds. They can provide information for services such as florists, catering companies and equipment rentals. Shady Lane Cellars' alcohol is available for the event. For more information, contact the winery directly.
Tabor Hill Winery & Restaurant
185 Mount Tabor Road, Buchanan, MI 49107
269-422-1161 | taborhill.com
Tabor Hill Winery and Restaurant offers both weddings and rehearsal dinners. Their event spaces include the Grand Mark room, which can seat 80 guests or accommodate 100 cocktail guests; the Vineyard room, seating 50 guests or with room for 60 cocktail guests; and the Estate tent with room for up to 225 guests. The Grand Mark room also offers full bar service. Other amenities include desserts, catering, planning and related equipment.
The Ridge at Verterra Vineyards
8080 N. Swede Road, Northport, MI 49670
231-256-2115 | verterrawinery.com
Located on the Leelanau Peninsula, The Ridge has views of Lake Michigan to the north and Grand Traverse Bay to the east. There are a variety of spaces available for wedding celebrations including an outdoor reception terrace, a wedding lounge for preparation of the bridal party, indoor restrooms and a dedicated area where catering crews can work. A preferred partner list can help direct couples to florists, photographers, videographers and similar vendors. The event staff will aid in planning, help with local lodging and coordinate the day. The reception space can be customized to fit the specific event, ranging from intimate to roughly 300 guests. The Verterra range of 20-plus wines and ciders are also available for events.
Warner Vineyards
706 S. Kalamazoo St., Paw Paw, MI 49079
269-657-3165 | warnerwines.com
Warner Winery and Tasting Room is located inside the historic Paw Paw Water Works Station. Wedding services include eight-hour rentals, ceremony and reception in two locations of choosing. Space options include the center dining room for 80 guests, the historic room for 42 guests, rail car and deck for 40 guests and the outside patio and amphitheater for 175 guests.
Willow Vineyard
10702 E. Hilltop Road, Suttons Bay, MI 49682
231-271-4810 | willowvineyardwine.com
Willow Vineyard offers a view of Grand Traverse Bay and Leelanau County wine country. They can accommodate wedding parties of up to 50 guests. Call the winery directly for details.
Youngblood Vineyard
61829 Ray Center Rd., Ray, MI 48096
586-770-5220 | youngbloodvineyard.com
Couples can recite their vows and hold a wine reception with guests set against Youngblood's 25-acre vineyard, located in Macomb County north of Detroit, with packages starting at $1,500. Youngblood supplies solid wood chairs with matching tables for a rustic theme. The reception bar includes wine and glasses and is staffed by licensed wine servers. There are a couple of tent options, along with a 500-square-foot outdoor dance floor. A luxury mobile restroom suite with flushable toilets and hot water sinks is provided. And the bridal party has access to a farmhouse master bedroom with bath.