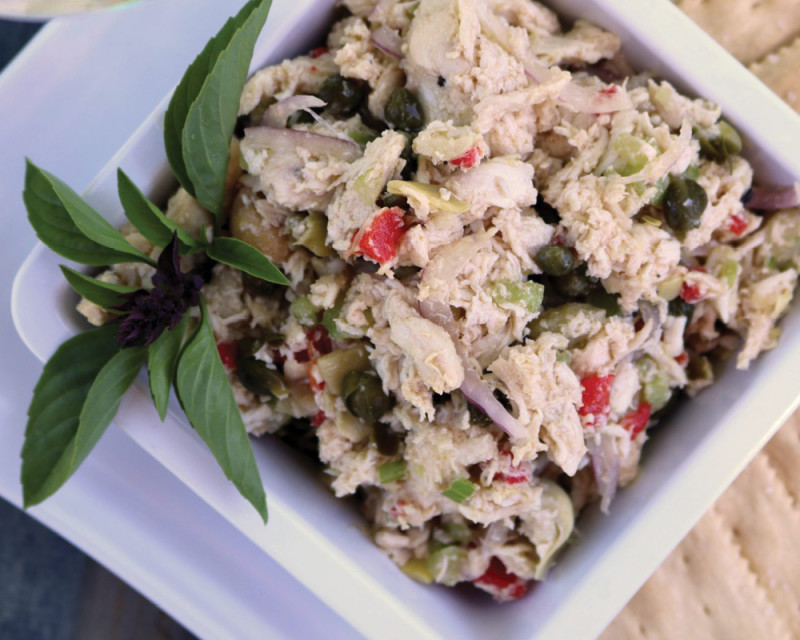 Enjoy this refreshing salad with a glass of rosé. 
Ingredients
Tuscan Chicken Salad
1 ½ pounds boneless, skinless chicken breasts
2 tablespoons olive oil
¼ cup celery, chopped finely
¼ cup roasted red peppers, chopped finely
¼ cup red onion, sliced thinly
2 tablespoons parsley, chopped
½ cup chickpeas, cooked and drained
½ cup artichoke hearts, chopped
2 tablespoons capers
Red Wine Vinaigrette
½ cup red wine vinegar
¼ cup lemon juice
2 teaspoons honey
2 tablespoons Dijon mustard
2 cups olive oil
½ teaspoon kosher salt
½ teaspoon black pepper
Directions
Red Wine Vinaigrette
In a large bowl, add vinegar, lemon juice, honey, and Dijon.
Mix well with whisk and slowly add in oil to combine.
Add salt and pepper and mix well.
Refrigerate.
Tuscan Chicken Salad
Preheat oven to 350 F.
Rub chicken with olive oil and place in a single layer on baking sheet. Bake for 12 to 15 minutes or until cooked through.
Remove from oven and cool.
Shred chicken and add to large bowl with remaining ingredients.
Toss with ½ cup of vinaigrette and chill for 2 hours or overnight.
Refrigerate remaining vinaigrette.
Moersch Hospitality Group owns Tabor Hill, Free Run Cellars, and Round Barn wineries in Southwest Michigan.
Facebook Comments