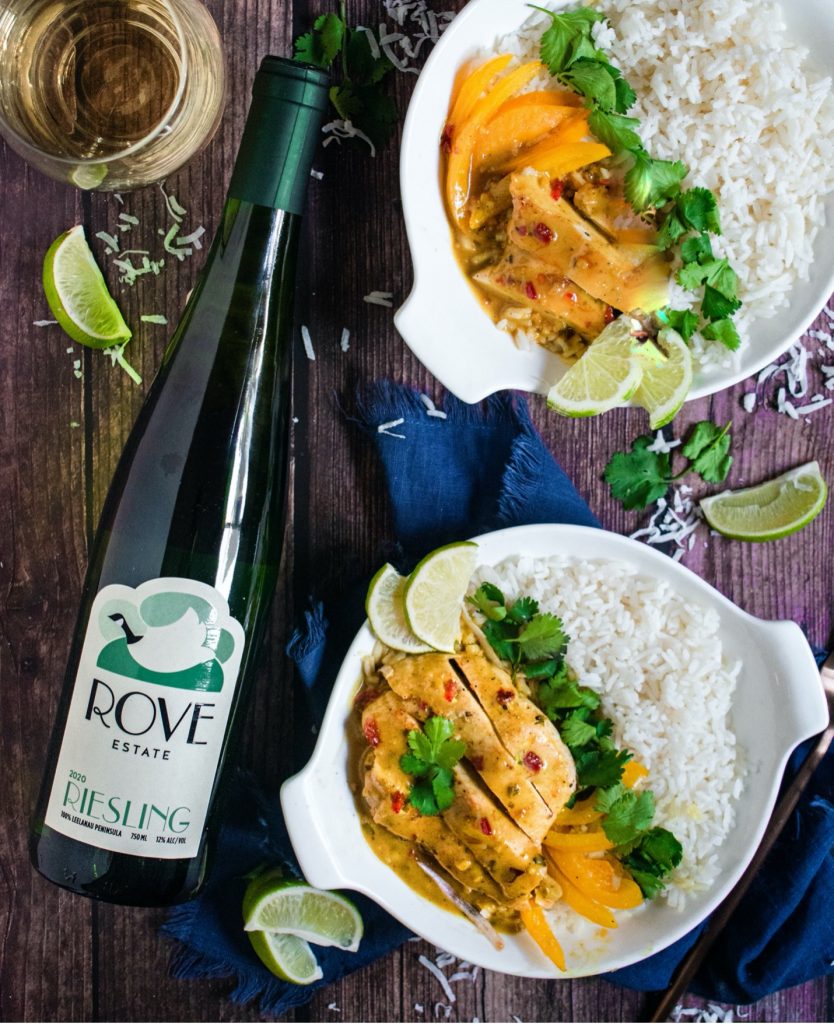 Balance this spicy curry chicken with a glass of Michigan-made Riesling.
Ingredients
2 or 3 red or orange bell peppers, sliced
1 shallot, chopped
1 tablespoon olive oil
2 teaspoons yellow curry powder
1 can unsweetened coconut milk, stirred
2 tablespoons red curry paste
1 to 2 tablespoons sweet Thai chili sauce
½ teaspoon red pepper flakes, to taste
1 teaspoon salt, or more to taste
2 tablespoons cornstarch
¼ cup cold water
4 chicken breasts (precooked or grilled in advance)
Rice or rice noodles for serving
Cilantro for garnish
Directions
In a large skillet over medium heat, combine peppers, shallots, and oil. Cook until fragrant and peppers become tender.
Sprinkle yellow curry powder over peppers and shallots and stir.
Add coconut milk, red curry paste, sweet chili sauce, red pepper flakes, and salt. Bring to a low boil/simmer.
Whisk cornstarch into water until dissolved. Add to the pan and stir until thickened. Taste and add more salt or red pepper flakes if needed.
Add sauce on top of precooked chicken and serve immediately over your favorite rice or rice noodles. Garnish with fresh cilantro if desired.
This recipe, which comes courtesy of Traverse City winery Rove Estate, was created by Melissa Patterson of Drop Shadow Design in partnership with Rove.
Facebook Comments