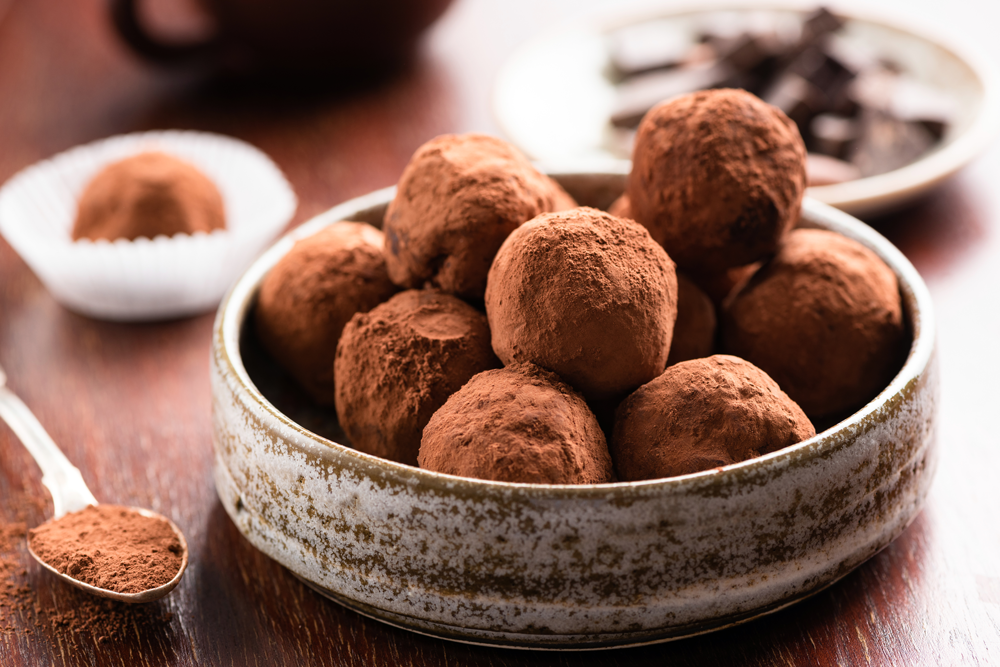 Thanks to some Michigan-made fruit wine, this rich dessert is a fresh spin on the classic combination of chocolate and raspberries.
Ingredients
10 ounces bittersweet chocolate, finely chopped
3 tablespoons unsalted butter
½ cup heavy cream
1 tablespoon light corn syrup
¼ cup raspberry wine
½ cup Dutch-processed cocoa powder, finely chopped nuts, and/or toasted coconut, for coating truffles
Directions
Place the chocolate and butter in a medium-sized glass mixing bowl. Microwave for 30 seconds. Remove and stir. Repeat this process 1 more time. Set aside.
Heat the heavy cream and corn syrup in a small saucepan over medium heat until simmering. Remove from the heat and pour the mixture over the melted chocolate mixture; let stand for 2 minutes. Using a rubber spatula, stir gently, starting in the middle of the bowl and working in concentric circles until all the chocolate is melted and the mixture is smooth and creamy. Gently stir in the raspberry wine. Pour the mixture into an 8-by-8-inch glass baking dish and place in the refrigerator for 1 hour.
Using a melon baller, scoop chocolate onto a sheet pan lined with parchment paper and return to the refrigerator for 30 minutes.
Place the cocoa powder, nuts, and/or toasted coconut into individual pie pans and set aside.
Remove the truffles from the fridge. One by one, roll them in the cocoa powder, nuts, or coconut. Leave the truffles in the coating for 10 to 15 seconds before removing. Repeat until all truffles are coated. Allow them to set in a cool, dry place for at least 1 hour, or store them in an airtight container in the refrigerator. Truffles are best when served at room temperature.
This recipe was originally published on Michigan Wine Country's website in 2019 and has since been slightly updated.
Facebook Comments