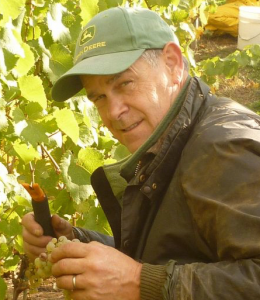 Tom Petzold, owner/operator of Ten Hands Vineyards near Traverse City, grows grapes for and works at Bowers Harbor Vineyards on the Old Mission Peninsula. He's also a founding member of the Michigan Wine Collaborative, where he serves as chair of the research and education committee and member of its membership and sustainability committees. Petzold is also active with Parallel 45 Vines and Wines, an organization with a mission to represent, promote, improve and sustain the vineyard and winery industry in northern Lower Michigan.
However, grape-growing and winery operations didn't enter his life until a little over a decade ago. Here's his story.
Q. What did you used to do?
My wife (Claudine) and I moved to Old Mission Peninsula from Washington, D.C., in 2007, after a career in the U.S. government (U.S. Air Force, Office of Secretary of Defense) and intelligence consulting (SRA International). We lived in Europe for over 15 years and enjoyed, studied and collected wines from France and Germany. My wife is French, so we were happily biased to the many wines from regions throughout France. But living six years in Germany (five in Rheinland-Pfalz) allowed me some insights and so many great experiences with German wines, particularly Riesling.
Q. How did the Traverse City area get on your radar?
While living in Belgium, we needed to find a place to settle down. In 2002, we traveled up from Oscoda along U.S. 23, visiting the towns along Lake Huron, then over to Petoskey, Charlevoix and Traverse City. TC had the most to offer, so we began planning for a long-term move here then.
Q. Why did you decide to establish a vineyard, and what did it take for you to learn to grow wine grapes?
Simply put: a love of wine, gardening and taking on a great challenge. Here in Old Mission, our land was partially vacant, so I investigated and then planted just over one acre of Riesling in 2009. Following this, we expanded, primarily for economies of scale, to another acre, this time Chardonnay. We sell the grapes toBowers Harbor Vineyards.
To learn what I'm doing, which I feel that I am still mostly in the dark, I read much of what was recommended. I met with several owners/winegrowers on Old Mission Peninsula, particularly Spencer Stegenga at Bowers Harbor Vineyards, where I was working in 2008. Everyone was open, honest and very much willing to provide advice and encouragement. … The collaboration in our wine industry is exemplary — as it is around the world. I still read journals and books each month and have specific advisers for the most important aspects of the wine-growing task. I don't think I will actually understand the business before I have to give it up.
Q. Tell us about life as a vineyard operator — ups and downs?
The downs are dealing with our weather conditions and finding the best methods to growing vinifera grapes in our Michigan climate. To say it is challenging is most certainly an understatement. Dealing with the fungus, virus and bacterial pests are constantly demanding more knowledge and better practices. Keeping the critters (deer, racoons and certain birds) away from damage in the vines also keeps us alert. Labor — the lack of quantity and quality — is a growing problem, and how to pay for labor in a sustainable fashion as a grower.
The ups are working outdoors, with my hands and brains — and with my family. My wife works frequently with me in the vineyard throughout the year, and my daughters come each harvest for a major family event. That is most special and rewarding, along with knowing that our grapes are being made into wines comparable with some of the best of their varietal across the country.
Q. Anything else on your mind?
I wish to express my sincere appreciation for the tens of persons in our industry who give so much of their time and energy toward making our wine industry successful and worthwhile.
Facebook Comments