When Chantal Lefebvre and her husband, Mike Newman, were brainstorming names for their Kewadin-based vineyard, they found themselves running into a lot of roadblocks.
They couldn't use the name of the winery's road, Sutter, because of the established Sutter Home wine brand. Lefebvre considered incorporating her own name, but no luck there — "Chantal" was already being used by regional powerhouse Chateau Chantal, and as for "Lefebvre"?
"My last name's just too hard to pronounce," she says.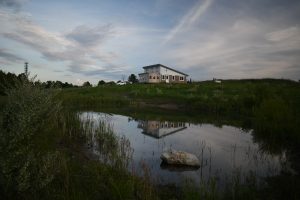 So they turned to the local geography for inspiration. Torch Lake, known for its clear, turquoise waters, is within walking distance of Lefebvre and Newman's winery. The name they settled on, WaterFire Vineyards, is a play on Torch Lake.
Lefebvre and Newman wanted a name that was both unique and identifiable with the region, and WaterFire fit the bill. Plus, those two elements are "important considerations in agriculture," Lefebvre says, "so we just thought it was really fitting."
Anniversary Shoutout!
2022 marks five years since WaterFire Vineyards opened its tasting room and became the first vineyard outside of California to get SIP (Sustainability in Practice) Certified. You can visit the winery and try WaterFire's sustainably made wines Tuesdays through Saturdays, noon to 7 p.m., and Sundays, noon to 5 p.m.
Facebook Comments