The judges have crowned the medal winners of the first-ever Judgement of Michigan, hosted by the Michigan Wine Collaborative and Lake Michigan College on Aug. 3. More than 350 Michigan wines were evaluated by the panel of 21 judges from around the country, with 175 wines taking home medals. Eight wines received Double Gold — the highest distinction. They are:
Arcturos Winter Harvest Riesling, Black Star Farms, Suttons Bay
Cabernet Sauvignon, Cherry Creek Cellars, Brooklyn
Afterglow, 45 North Vineyard & Winery, Lake Leelanau
Gewurztraminer, Lemon Creek Winery & Vineyard, Berrien Springs
Frontenac Blanc, Petoskey Farms, Petoskey
St. Julian Solera Cream Sherry, St. Julian Winery, Paw Paw
Pinot Blanc, Verterra Winery, Leland
Late Harvest Riesling, Verterra Winery, Leland
45 North Winemaker Jay Briggs says that while the winery has won Double Gold medals before, the small number of Double Golds awarded in the Judgement made the results that much more meaningful.
"We've never been one of the only eight wines to get a Double Gold," Briggs says. "So, looking through the medals and realizing how small an amount of medals actually got awarded, wow — it was pretty humbling, that's for sure."
To Briggs' point, this was not an "everyone who plays gets a medal" competition. Fewer than half of the wines received medals. In addition to the eight Double Gold winners, 33 wines received Gold medals, 58 received Silver, and 76 received Bronze.
The judges hailed both from Michigan and from other states. "We wanted to have fresh palates to evaluate the wines of Michigan in a true blind tasting event," says Emily Dockery, executive director of the Michigan Wine Collaborative. "Many of our judges are used to tasting and evaluating what many would consider more classic styles or regions, so this was an opportunity to put our wines up against the wines of the world via our judging panel."
One of those judges, Randall Coats, who has worked at City Winery NYC and with Andre Mack of Maison Noir wines, says the Judgement was an "eye-opening experience."
"There was a wide range of quality," he says. "Some wines you could definitely tell they experienced the challenges that Michigan winemakers face. Other wines were pleasant and welcome surprises, showing the quality that can really elevate Michigan's status in wine production."
Dockery notes that the judges are of diverse palates and backgrounds, and all have an active presence on social media, and are thus well positioned to enhance the notoriety and market share of Michigan's world class wines. "We wanted to be able to produce an event that would elevate the image and brand of Michigan wine as a whole," she says.
Kristy Wenz, a member of the "judging squad," is based in the Chicago area, but has experience with Michigan wine. In addition to being certified through the Wine and Spirit Education Trust (WSET) program through Level 3, being a wine educator at the American Wine School, and writing about wine for various publications, she has worked harvest and in the cellar at a Michigan winery.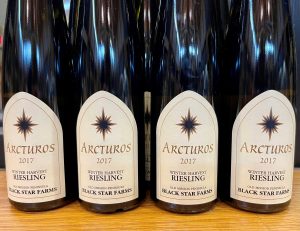 The judges each tasted about 50 wines, starting with sparkling and moving through whites, roses, reds, and desserts. The judges' panel assessed each wine individually for quality and evaluated a variety of characteristics.
"Any time you're looking at a wine, you're looking for balance, length, intensity, complexity, as well as the varietal typicity and character of the wine, in addition to the style," Wenz says.
A wine needed to hit all those notes to win a Double Gold medal.
"For a Double Gold, … it would need to have good structure, good acidity, good flavors and aromas, be varietally correct for the type of grape or blend that it is, as well as have a nice length on the finish and complexity, so a whole range of different flavors and aromas that come through, whether it's fruit flavors or spice characteristics — depending on the grape it will be different," Wenz says. "And then the longevity, of course — you want to make sure it has a nice long finish and it's completely in balance. For example, if there's no fruit coming through, the alcohol component may stand out a little bit too much."
Dockery says the Judgement of Michigan was a tremendous opportunity for the Michigan
wine industry to put their best wines in front of restaurateurs, sommeliers, wine retailers, and distributors that actively promote, buy, and sell wine in key markets throughout the USA.
In regard to his Double Gold winner, Afterglow — a dessert wine composed of 50 percent Riesling and 50 percent Vignoles — 45 North's Briggs says, "I'm pretty proud of the product that we put on the shelf and that we entered into the competition, and it's nice to see that other people like it as well." The winery uses frozen Vignoles estate grapes plus very late harvest Riesling grapes from the following year. The result, Briggs says, is a "nice, clean, complex little dessert wine."
Wenz notes that the wines entered in the Judgement — including top-quality wines like Afterglow — demonstrate the potential of the Michigan wine scene.
"This event was such a great thing for Michigan, because it gives the winemakers feedback on what's working and what's not working," Wenz says. "Michigan has the potential to produce some really world-class wines, and it's still a really young industry."
"It's exciting to see the potential it has, because it's got the climate, the soils, it's got the passion, and there's a lot of fantastic winemakers on the scene right now," she says. "And it's really starting to shine and really starting to come into its own."
Exposing the judging panel to the range of wines available in the state was one of the key goals of the event, Dockery says, and it was an "enormous success."
"We made sure the judging squad was able to experience a wide variety of Michigan wine, from the powerhouse St. Julian to the teaching winery at Lake Michigan College to the classic and iconic styles of Tabor Hill and Lemon Creek Vineyards," Dockery says. "We would not have been able to do any of it without the enormous support from the industry at large and our sponsors.
"This was a great opportunity for us to come together around a common goal of raising the entire image of Michigan wine and getting a little closer to solidifying our place on the world stage of wine."
View the full results of the Judgement of Michigan here.
Facebook Comments