The people who make up Michigan's wine industry are a family-oriented bunch. We asked them to share a favorite holiday recipe and its backstory. In the middle of this crazy pandemic holiday season, many were kind enough to respond.
Sweet Memories

Nadine Begin was known as a fabulous cook. In fact, her "Meals & Memories" cookbook is available on the website at Chateau Chantal, which she and husband Bob Begin founded (Nadine died in 2018). Their daughter and current President & CEO Marie-Chantal Dalese shared her mom's recipes for Icewine Truffles.
"Chocolate truffles were — and are still — a Christmas tradition for our family," Dalese says. "My mom wasn't shy about portion sizes, either. As we got older, the sizes got bigger — we're about a little bigger than a golf ball-sized truffle now."
Dalese says her mom loved all holidays, but Christmas was particularly special.
"I love keeping all her traditions, right down to the record player with the Polish Christmas carols and a Christmas Eve dinner of ham, kielbasa and horseradish, followed by presents and chocolate truffles," she says.
Reminder of Grandma
Cortney Casey of Michigan By The Bottle tasting rooms shared a recipe for pizza rolls that her paternal grandmother, Clara Dueweke, always made.
"It wasn't a family party or holiday party without pizza rolls," Casey says. "She was 100 percent Italian and loved to put a ton of garlic salt on everything — these were no exception.
"Everyone in my family was completely addicted to these. We would stand around and scarf down a ridiculous amount of them before dinner."
Casey's grandma was also a talented pianist who played "by ear and by heart." In addition to the pizza rolls, she brought the family together in song as they gathered around her piano while she played Christmas carols.
"She passed away in March 2001," Casey says. "My aunt still makes the pizza rolls for Christmas, and they always remind me of my grandma."
Baking: Love Language

Sherri Campbell Fenton of Black Star Farms in Suttons Bay sent along a Dutch recipe for a traditional Dutch dessert bar that her "100 percent Dutch mother always made for family and friends she loved."
"Baking was her love language," Fenton says. "She and my father were always dressed up for the holidays.
"In honor of Mom and our third Christmas without her, it felt fitting to share."
'The Stuff of Legend'

Gina Certa Shay of the Michigan Wine Collaborative shared her mother's butter cookies, which she says "are the stuff of legend."
"She's made them ever since I can remember," Shay says. "While all of her Christmas cookies are good, these are the ones that she always had at my childhood home in Indiana when I was little and when I'd come home from college or as a young adult."
When Shay herself had children, her mom began bringing the recipe to make at her house for Christmas — also at Easter and Halloween, just switching out the shapes of the cookie cutters. There, she would bake with Shay's son and daughter, the children wearing little aprons and chef hats, and doing the same with Shay's nephews as well.
"This year, due to COVID-19, we are sadly spending the holidays separately, but my mom researched how to send cookies so that they don't break and sent cookie care packages to us in Michigan and to my brother's family in Tennessee so we could still have a little taste of holiday nostalgia and Certa family tradition," Shay says.
Snowy with a Chance of Meatballs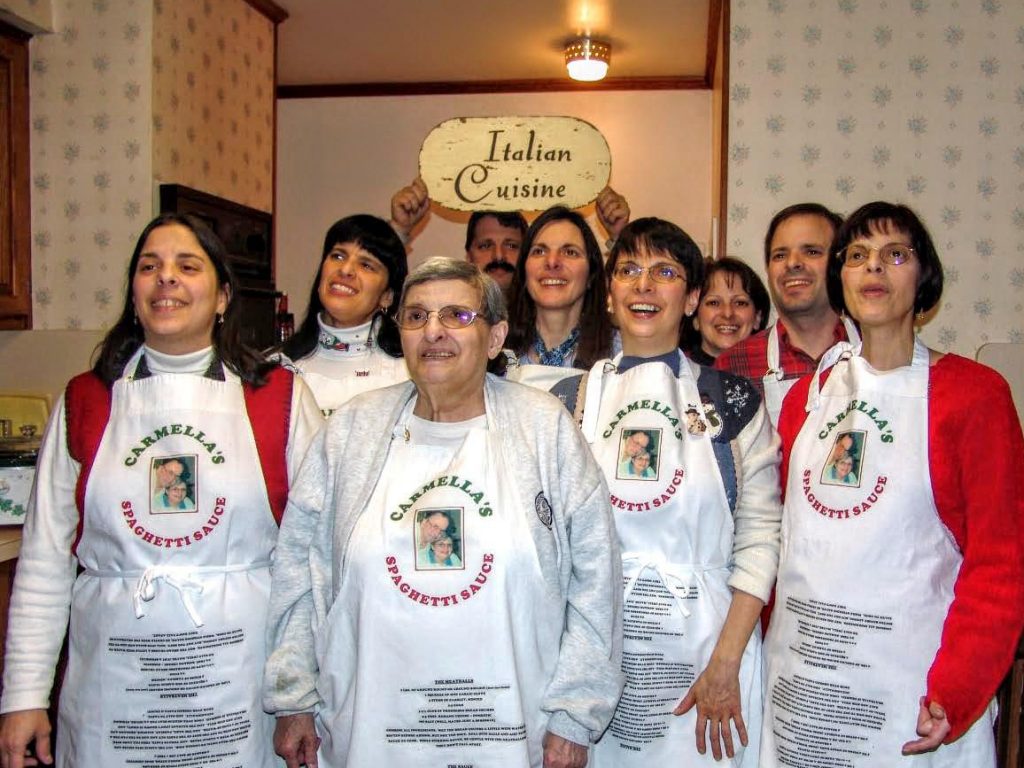 Joe Mezza at Tennerra Winery in Sterling Heights tells the story of his mother, Carmella, and father, Louis, having 10 children.
"Growing up on the east side of Detroit, our family of 12 enjoyed the most amazing Christmas feasts that included homemade cannoli, lasagna, Christmas cookies, pizzelle and more," he says. "Nothing, though, could top Mom's Spaghetti & Meatballs."
The family even had aprons made up for everyone in 2004 that included the recipe upside down so cooks could look down and read it.
"Mom's apron is printed right side up because she already knew the recipe," Mezza notes.
Sugar, Sugar
Deb Burgdorf, owner at Burgdorf's Winery in Haslett, shared her family's traditional holiday sugar cookie recipe.
"I basically had the cookies at a friend's house about 30 years ago," she reports. "I loved them and have been making them ever since."
Crockpot Cuban

Sarah Peschel at Bel Lago Vineyard, Winery & Cidery on the Leelanau Peninsula shared a recipe for a Cuban dish her family makes at the holidays — Ropa Vieja.
"This isn't a traditional holiday meal, but we make it in the days leading up to Christmas when family is around but everyone is busy with last-minute shopping," she says. "It's nice to put it in the slow cooker in the morning and know we can all arrive home to dinner ready to go."
She likes to pair it with Bel Lago Solia Red blend.
Wet Your Whistle

Tom Nixon at Modern Craft Wine in Au Gres says mimosas have become a popular element of family gatherings.
"My brother-in-law is into mimosas, and so it just makes sense we created a Modern Craft mimosa," he says.
Italian Candy
John Braganini, president of St. Julian in Paw Paw, shares vivid childhood memories of two favorite treats growing up: St. Julian Non-Alcoholic Champagne and torrone, the Italian nugget candy. Braganini says he didn't start cooking until he was all grown up and didn't have a recipe, though you can find them online including one at eataly.com.
Facebook Comments