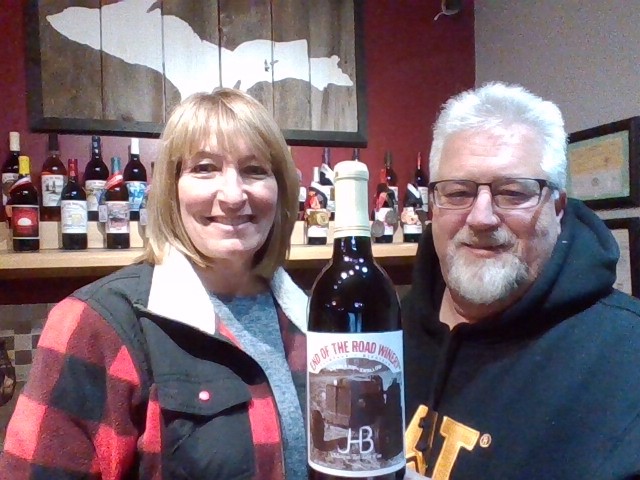 Robin and Jim Barker own End of the Road Winery in the Upper Peninsula community of Germfask. Operating a manufacturing facility, tasting room, indoor and outdoor seating and a 3.5-acre vineyard is Jim's "dream hobby come true," Robin says. They opened in 2016.
Q. Please tell us how the winery came about:
Jim, with my assistance, has been making wine for 36 years. The family property, which is now the home of our vineyard and winery, had Concord grapes growing on it — not a lot, but enough to make pints and pints and more pints of grape jelly — a trait that Jim's family has passed on through the generations. But you can only eat so much jelly. One day, friends of my parents, Barb and Doyle Foore, asked, 'Why don't you make wine with them grapes?' That's all it took. Doyle had Jim making Concord grape wine in no time.
The first year we were open, we produced approximately 400 cases of wine, and this past year, we produced approximately 1,250 cases. This is still a small amount compared to the wineries in the Lower Peninsula.
Q. Who does what?
We both participate in every aspect of running this business, from planting and picking the grapes, making and bottling wine, marketing and financials, right down to cleaning and hauling the garbage.
Q. What kinds of grapes do you grow, and what types of wines do you make?
We grow some of the cold-climate grapes such as Frontenac, Marquette, Frontenac Blanc, LaCrescent and Prairie Star. We make wines (from them all) except the Prairie Star. We also make many fruit wines using raspberries, cranberries, blackberries, cherries, blueberries, peaches, nectarines, plums and apples. We have a few specialty wines as well — rhubarb wine, a jalapeño wine and a wine made from maple syrup.
Q. How does your operating model differ from that of a winery on one of the destination wine trails?
Our customer base is not coming here as their destination, or by saying, 'Let's go wine-tasting today.' We don't have wine trails in Upper Michigan like they do in Lower Michigan. Any other winery is about 80 miles away from us. Our customers are usually headed to another destination.
Q. How did the pandemic affect your operations over the past year, and currently?
Operations were affected by the pandemic last spring, as we had plans of opening for tastings along with sales the first of May. But with the restrictions in place, we were not able to open until May 22. When the Upper Peninsula opened up, people started coming up. The pandemic has actually had a positive effect on our winery. Traffic flow through the tasting room greatly increased. Many of our guests had plans to travel abroad but had to cancel due to COVID and decided to travel to the Upper Peninsula instead, eventually finding our little winery at the end of the road. It was by far our best year yet.
Q. How are things looking for the future?
We realize COVID isn't going away for a while, and due to some of the restrictions and our small tasting room and small outdoor area, we are adding a pavilion and larger patio area in front of the original tasting room, allowing us to serve more customers at one time.
Q. We understand that Jim's dad, James Henry Barker, was your "No. 1 wine assistant" until his death in December 2019.
The land that our grapes are picked from was originally his land. Now it's our vineyard. He would just stop by to see what needed to be done, just about every day. He was so proud to be part of the winery and wanted to help with anything and everything.
Q. Tell us about the new estate wine you were producing at the time of his death that you've named JHB to commemorate him.
He had put a lot of work into this batch and never got to taste it. Therefore we labeled it in memory of him. It's J-B; the dash should connect the J with the B and then make it look like an H. That's how (he) signed things as his signature. It's a semi-sweet with early notes of pepper, a berry middle and a jammy finish. It's a very easy drinking wine. We will have a limited amount of this wine for sale in 2021 and hope to continue it each year.
Facebook Comments