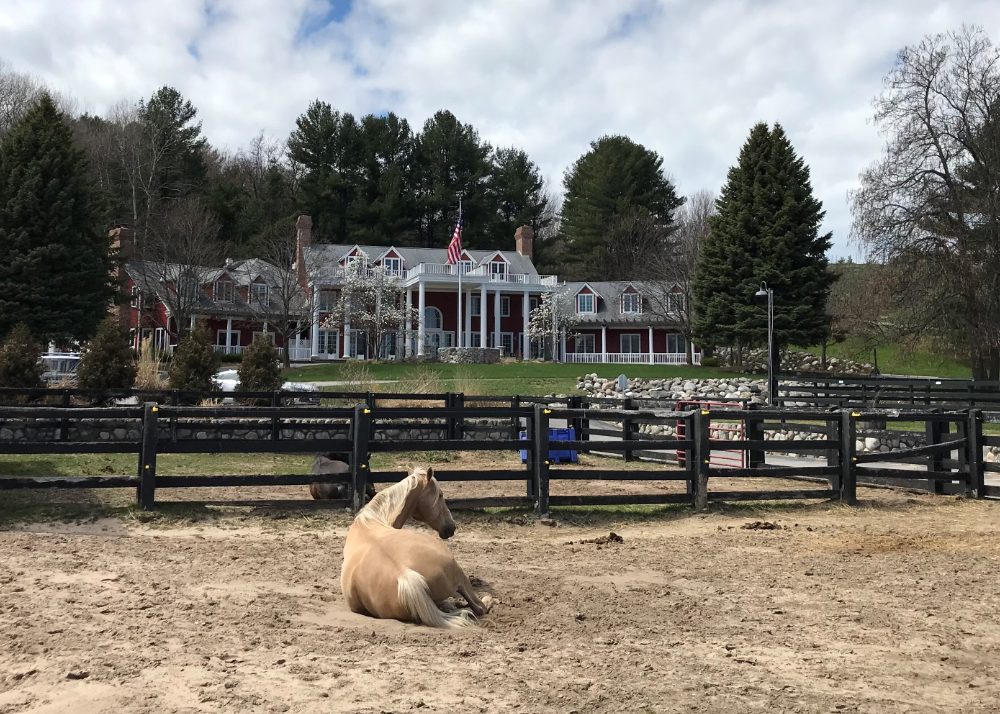 If you've visited a winery tasting room, you may have witnessed this scenario: parents trying to savor a taste of wine as children with nothing else to do sit with faces rested in hands, waiting for them to be done.
Plenty of Michigan wineries are trying to change that picture. Take Maple Moon Sugarbush & Winery in Petoskey, which has maple root beer, maple caramel corn, and maple ice cream among its offerings. Owner Christi Petersen says children can play with wooden tic-tac-toe games, board games, coloring pages with crayons, books, and a supersized Jenga set. In the summertime, they can run to their hearts' content outdoors, where cornhole is also available.
"I am a former elementary school teacher, and I know how to work well with children," Petersen says. "If they feel content and well cared for, they will behave. This is not only important for the parents of the children to enjoy themselves at Maple Moon, but also for the other guests."
Discoveries for children at Dune Bird Winery in Northport include little "Dune Bird boxes" filled with small toys. There's a cabinet of children's books and games. Outdoors, a playground awaits, along with a big open field where kids can play tag and kick a ball around.
"We have two small kids ourselves," says co-owner Nicole White, "so this is very much a family business, and we wanted that in all elements of the business. … We wanted this to be a gathering spot and place to hang out, not just for wine drinkers."
In Baroda, Round Barn Winery & Estate welcomes kids as well. There, they will find yard games from May to October and a wide-open lawn and hill where they can expend some energy. A 3.5-mile trail system awaits exploration and leads to Tabor Hill Winery & Restaurant. Sledding is also an option in the winter; guests just need to bring their own sleds once there's some snow on the ground.
"We understand the importance of creating lifelong memories as a family and will always remain committed to fostering an environment that welcomes all," says Meagan Veldman, the social media and public relations specialist at Moersch Hospitality Group, Round Barn's parent company.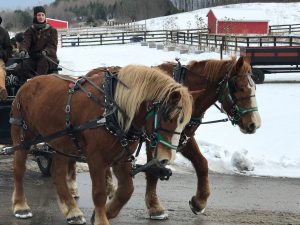 Black Star Farms in Suttons Bay offers a popular Brunch with Santa every year. Sleigh rides are also an attraction for young ones. In the summer, the winery hosts goats or lambs that children can feed. And because Black Star boards horses, children delight in the chance to view them — especially the ponies, says managing owner Sherri Campbell Fenton.
Before it opened a winery, Pond Hill Farm in Harbor Springs was a family destination with activities for all ages. That hasn't changed, says Chief Operating Officer David Berryman.
"We have a playground, sledding hill, kickball field, human foosball court," he says. "We have a gnome house hunt through our trail system."
Other attractions are cross-country skiing, snowshoeing, a trout pond, and farm animals such as goats and rabbits. Fall activities include pumpkin bowling, pumpkin smashing, and a bounce house. Pond Hill Farm's café serves children's pizzas, among other options for young ones.
"We try to be more of a family place first than a winery," Berryman says.
That's not a bad strategy, says Emily Dockery, executive director of the Michigan Wine Collaborative. Visiting wineries can help spark young people's interest in agriculture or careers in winemaking and grape growing down the road.
"Family-friendly events allow the wineries and vineyards to connect with the community," Dockery says, "and provide safe spaces for that community to support local business, agriculture, and trades."
Facebook Comments