Known as one of the pioneers in the Michigan wine business, James Lester built his company from the ground up. The owner of Wyncroft in Pullman shares the inspiration behind his classical approach to winemaking.
Q: Where did your initial interest in winemaking come from?
A: I grew up in a plant-loving family. Gardening and growing were both passions and hobbies from a young age. I had very little exposure to wine and alcohol growing up. Once I got married and had a few kids, I started to learn about wine through dinner parties we would have with our friends. Whenever we were cooking from a cookbook, there would be a photo of wine or a recommendation of what would pair nicely with the food. I figured to host a good dinner party, I should learn about the flavors and how winemaking works.
Q: How did your career progress from that point?
A: The more I learned about wine, the more I started to question things. My background knowledge of plants led me to start researching growing conditions and the weather, and I soon learned that our growing season is almost identical to those of Bordeaux and Burgundy. We have slightly colder winters and warmer summers, but we have the same number of growing days.
I knew I wanted to start producing wine, and I ended up on the phone with Konstantin Frank's son, Willy. Konstantin's journey in winemaking was a big inspiration for me; he had found a way to grow Cabernet Sauvignons and Pinot Noirs in New York in the 1950s. He had passed away, but his son mentioned that he was selling propagated vines from his father's collection in France. I promptly ordered them.
From there, I was able to create a small batch of Pinot Noir that my mentor could not believe had been grown from Michigan grapes. Despite his skepticism when I began the process, he was stunned by the quality of the wine. By 1986, I had a few partners, and we began our journey in the winemaking business.
Q: How would you describe your growing process?
A: I'm very classical. I follow the ancient, traditional methods used in France, which is why my wine is so comparable to French wines. Quality is so important, and that is what has built my reputation as a winemaker. My wines are sold in all of the best restaurants in Detroit and Chicago.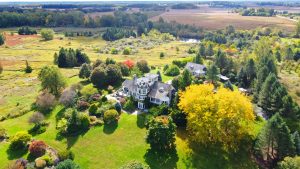 Q: What can people expect when visiting Wyncroft?
A: I only do tours and tastings in the summer, all by appointment. The property is beautiful; it looks like a botanical garden when you pull up the driveway. I host a two-hour tour around the property, and visitors learn about how we grow to make maximum-quality wines. I have a lot of firsts under my belt — first red Pinot Noir in Michigan and first white Bordeaux blend. I also created one of Michigan's first Sauternes, a white dessert wine that is made late in the harvest with Sémillon. I'm considered to be a pioneer of the fine wine industry here in Michigan.
Q: What advice do you offer to young winemakers?
A: You make a lot of mistakes at the beginning, and those are all opportunities to learn something. My biggest advice is to remember that the vine does not know where it's growing. Whether it is in Michigan or France, the vine only knows whether it likes the conditions that it is growing under.
Facebook Comments