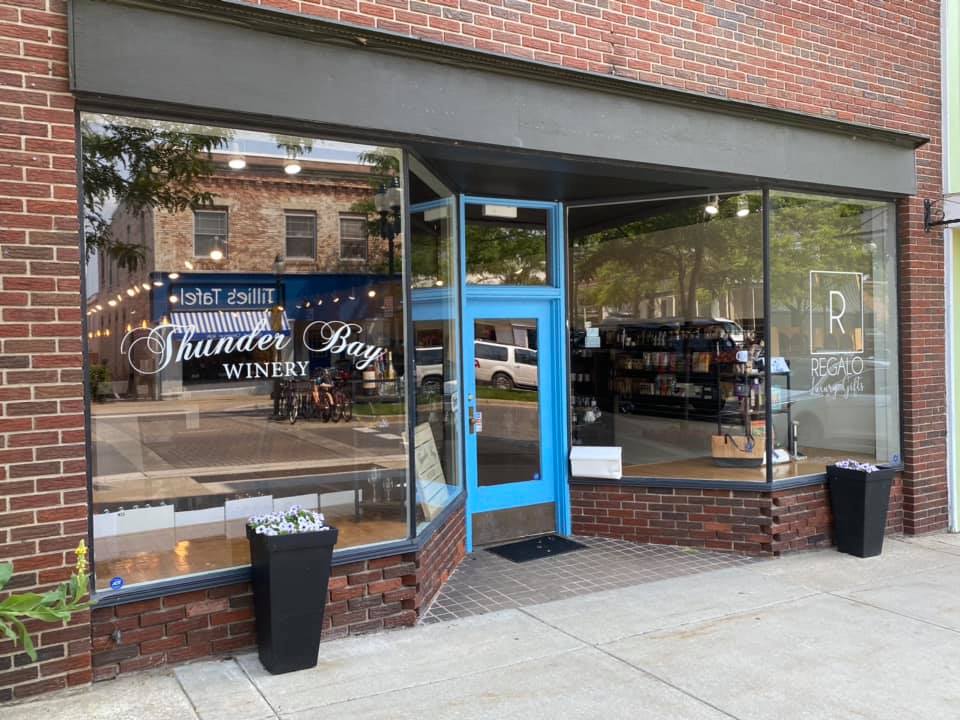 At Thunder Bay Winery in northern Michigan, family is everything — and that doesn't mean just human family.
Co-owner Janis Sahr and her husband moved to the Tip of the Mitt and planted a vineyard immediately after his graduation from Central Michigan University in the early 2000s, and today they run their vineyard and winery with their son. They've also had help from a beloved dog and a small flock of sheep.
While the sheep program is on hold because of recent expansion — in August 2021, Thunder Bay Winery opened a new tasting room in Petoskey to complement the original in Alpena — it exemplifies the Sahrs' commitment to sustainability and staying eco-friendly.
Here, Sahr talks vineyard animals, the new tasting room, and keeping the business in the family.
Editor's note: This interview has been edited for length and clarity.
Q: What's special about being part of a family-owned and -operated winery?
A: We're a very small vineyard and winery, so we can oversee literally everything. We're in the vineyard with the employees; we're in the winemaking process. I'm in the tasting room right now — I'm managing the selling. So staying small allows us really to have that power to oversee every single area for quality control, so everything is exactly done how we want it to be done.
Q: Thunder Bay grows fruit other than grapes and makes fruit wines as well. Has your winery always made fruit wines? Do you have a favorite?
A: Yes, when we bought our property, it had apples, pears, cherries, and currants on it. So we've used that in the winemaking from the start. My favorite one is black currant because it's not too sweet, [and] it's got a lot of flavor to it. It's unusual, too — not many people make black currant wine.
Q: Could you tell me about Thunder Bay Winery's animals?
A: We had our golden retriever who used to be out there, for seven years. She passed last September. And she used to get walked every night in the vineyard, and she would scare away any deer so that they wouldn't eat the buds off of the vines in the spring. Then we had sheep [and lambs] in the vineyard for two years. … We had anywhere between eight and 12, and they took care of 4 acres of vineyard for us.
The sheep were implemented after doing some research in California and Australia that they had used sheep in vineyards. They would keep weed management; that's what they were there for. Because when we started, we used Roundup, and then we were trying to get away from all chemicals. Then we were mowing underneath the vines — hand-push mowing. So we trialed sheep to keep weed management in control, and we found that it worked very well. Plus, it was a win-win: We weren't using gas, and it reduced the manpower, and then it was adding fertilizer to the vineyard, too.
Q: Are there any differences in the experience in your new Petoskey tasting room compared with your original Alpena tasting room?
A: When I opened in Alpena, we were the second winery in Alpena, so going over to Petoskey, there are a lot more wineries and competition, but I find everyone has been very welcoming in Petoskey. And it's a different clientele. They're very experienced winemakers, where a lot of people that come to Alpena, sometimes this is their first winery they've ever been to.
I own a store [Regalo Luxury Gifts] in Alpena, too, so I combined the store and the tasting room in Petoskey. … Our Alpena tasting room has lots of tables and it's just for wine, and then in Petoskey we did some tables, seating at the bar, but I added a luxury gift shop onto it.
Q: What kinds of things do you sell in the gift shop?
A: We focus on all eco-friendly products; they're minimally packaged. [We have] a lot of things made from small companies, fair trade — they pay their workers fair wages. I really research companies from all over the world to find just the right items that I would like that are really high quality. So it's very unique items for birthdays, anniversaries, kids' toys — just a little bit of everything.
Q: Is that focus on sustainability something that carries over to the vineyard and winery?
A: Yeah, so that's exactly why we did the sheep in the vineyard. We got away from using Roundup. We're slowly learning more sustainable practices in the vineyard to get away from spraying. We've significantly reduced our spray schedule to only a couple times a year, but we would like to even get that reduced down to more natural products.
Q: Do you have any events coming up at either of the tasting rooms?
A: We usually have live music in the Alpena tasting room monthly, and we have our annual Harvest Festival on Sept. 17 in Alpena. It includes live music. We do a wine-stomping competition. We do a wine race; it's a Devil's River wine race — Devil's River is one of our most popular wines — so we do a three-legged race. We [usually have] a kids stomping area set up [and] games. So we shut down the street in Alpena out in front of us, and then we open that up to all outdoor activities. It's fun, and it's a good time celebrating the harvest; we're just going to get started on that. So it's a nice end-of-the-summer event.
Q: Where would be the best place for people to go to learn about the upcoming events and the winery in general?
A: Our Facebook page is an excellent way. We have a Facebook page, Thunder Bay Winery, for Alpena, and then our Petoskey one is Thunder Bay Winery & Regalo Luxury Gifts.
Facebook Comments