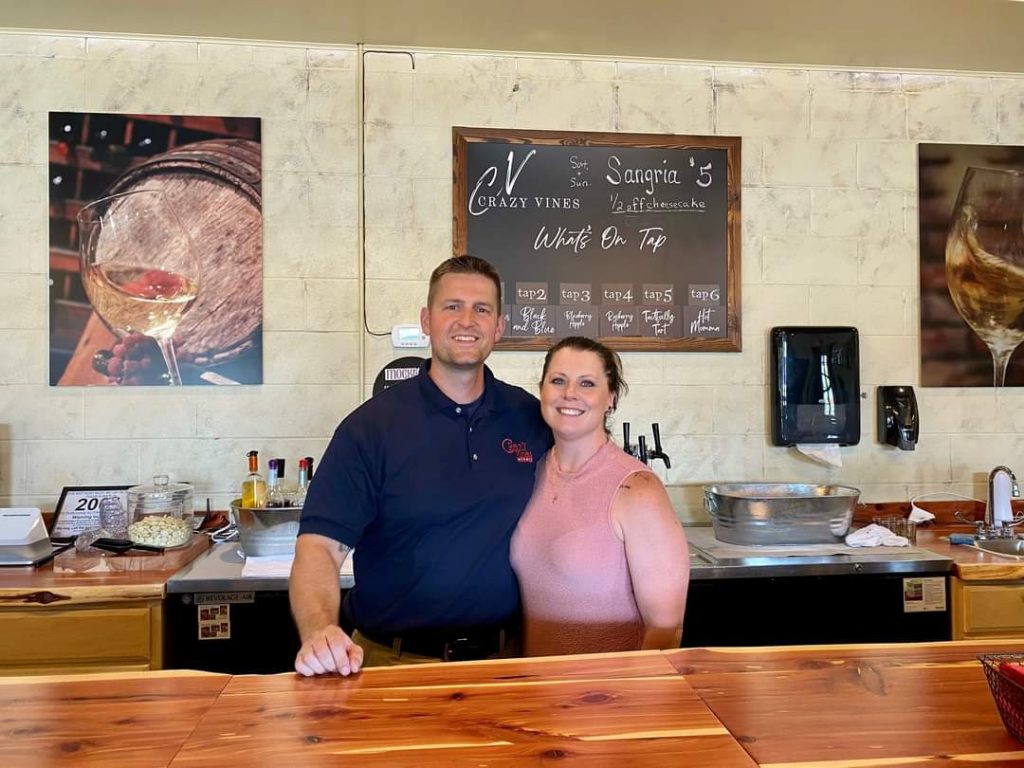 Pamela Keister and her spouse, Jacob, lead a busy life. From working full time in Midland as a police officer and a firefighter, respectively, to raising five children — and now, nurturing their new project in Sanford, Crazy Vines Winery — they manage a jam-packed schedule.
Adding a small vineyard, a winery, and a tasting room to the pile may sound hectic (hence the "Crazy" in Crazy Vines), but the Keisters wanted to take their interest in wine to the next level.
We caught up with Pamela to talk about the new winery, what she and Jacob are serving in the tasting room, and more.
Q: Why did you decide to start your own winery?
A: It was just something we had talked about a few years back, and the Midland tri-city area didn't have a winery, and we were both big into going to wineries and love the atmosphere and the people who come to wineries and just the friendliness of them. So that's when we decided to start one here in Sanford.
Q: How have your first few months of running Crazy Vines Winery been going?
A: Very good, very steady. The word is still getting out, but as the word gets out, more and more people are coming in, and people love the atmosphere here, and it's been a great go so far.
Q: What are each of your roles in the winery?
A: I run more of the retail/tasting room aspect of things, and he does all the winemaking and the behind-the-scenes.
Q: What's it like juggling being parents and managing your careers and running your winery?
A: It's stressful. It's crazy. That's just how we run our lives! It is very busy, and we run off a calendar. We lean on each other a lot for what the next day brings, and good communication as well.
Q: What does an average day look like for you?
A: Today, for instance, we got up, we got kids around, we've been grocery shopping for the last two hours between getting food for the winery and food for home, and my husband comes here to work. So he works the winery, and then in the evening he'll switch: He'll come home, and I'll come in to work.
Q: Can you tell me about the wines you have on the menu?
A: We have about 14 different wines, and out of the 14, I believe 11 we make. We do have a Merlot and a Cab Franc that is actually brought in from [the] Traverse City area, but the rest are grapes we bring in from either the Grand Rapids area or the Traverse City area that we do all the crushing, de-stemming, … [and] fermentation. Anywhere from dry to sweet we have. … We have a couple dessert wines. We're trying to stick towards more of the cold-hardy vintages just because that's what we like and that's what I don't think this area has a lot of.
Q: Do you have a favorite wine on your menu?
A: My favorite wine would probably be our Dirty Gerty, which is our Gewürztraminer.
Q: Have you partnered with other Michigan wineries?
A: We work with other wineries. For instance, our ciders all come from St. Ambrose [Cellars] and from Mackinaw Trail [Winery], so we work with them.
Q: How has it been working with other wineries?
A: Amazing. The wine industry is absolutely the most open, friendly industry I've ever been a part of. Every winery we go to and we sit down and talk, the head winemakers are always the ones to talk to you and give you ideas and be extremely helpful. They're more than [willing] to help if you have a question or anything like that. … Everybody wants to work together, it seems, which is wonderful. That was another reason that pushed us. It just seems like the wine industry is very friendly.
Q: What can guests expect when they visit your winery?
A: It's a very relaxing atmosphere. We did that because I want you to feel comfortable no matter where you come from. If you want to bring your kids, you can bring your kids. There are things for kids to do. We have mocktails for children to keep them busy. It's a very open atmosphere. It's just fun. It's super relaxing in here.
Q: Can you tell me a bit about your vineyard and how you manage it?
A: I manage the vineyard. We have 300 Marquette grapevines in the vineyard, anywhere between new this year to a year old. My husband and I and our families … plant everything by hand. That's what we're hoping to do for estate wine, but obviously it won't be ready for a good five years.
Q: Why did you choose Marquette?
A: We both really like the Marquette wine. We like the flavor of it and the profile on it, but also, it's a cold-hardy grape that can withstand the cold winters here in Midland, and so it was just the best choice.
Q: Is there anything else you would like to add?
A: We're very passionate about what we do. I'm super excited to bring it [Crazy Vines Winery] to the area. We hope to continue to grow bigger. We hope to be eventually bigger than what we are now by adding on to our building and being able to produce more.
Crazy Vines Winery, at 37 E. Saginaw Road in Sanford, is open Wednesday, 2 to 8 p.m.; Thursday, 2 to 9 p.m.; Friday, 1 to 9 p.m.; Saturday, noon to 9 p.m.; and Sunday, 2 to 8 p.m. The Keisters also open their space for events such as bridal, work-related, and retirement parties.
Facebook Comments